If you're looking to get the most out of your ketogenic diet, then you've likely heard about the potential benefits of keto supplements. But do you really know what they are and how they work? If not, don't worry – this blog post will provide a comprehensive overview of keto supplements, including what they are, how they work, and what the potential benefits are. Whether you're new to the keto diet or an experienced keto enthusiast, you'll find all the information you need here.
What are keto supplements?
Keto supplements are nutritional supplements designed to help people on a ketogenic diet achieve their weight loss goals. The ketogenic diet is a high-fat, low-carb diet that focuses on limiting carbohydrates and relying on fat as the primary energy source. Keto supplements provide additional nutrients that help the body adjust to this new way of eating. They can be found in powder form, capsules, or liquid form. Common ingredients in keto supplements include MCT oil, exogenous ketones, electrolytes, vitamins, and minerals. Keto supplements help to reduce hunger, provide additional energy, and support metabolism. They can also help regulate blood sugar levels and promote healthy digestion. Keto supplements are beneficial for those who are new to the ketogenic diet and experienced dieters alike.
How do they work?
Keto supplements work by providing the body with an alternative source of energy, primarily in the form of ketones. Ketones are molecules produced in the liver from the breakdown of fats and can provide the body with energy when glucose, the body's preferred energy source, is not readily available. When following a low-carb diet, the body switches to burning fat as its primary energy source, leading to a state known as 'ketosis'. By supplementing the body with exogenous ketones, it can remain in a state of ketosis even while consuming carbohydrates.
Keto supplements typically come in three forms: ketone salts, ketone esters and MCT oil. Ketone salts are combinations of ketones and mineral salts, and are usually taken as a powder. These are typically used by athletes and bodybuilders to increase their performance.
Ketone esters are formed when ketones are combined with alcohols, and are designed to be taken sublingually for quicker absorption. They are often used by people who are transitioning into ketosis and looking for a quick boost of energy.
MCT oil is a type of fat derived from coconut or palm kernel oil, and is high in medium-chain triglycerides (MCTs). MCTs provide the body with an efficient source of energy, making them popular among people following a low-carb diet. They also offer other benefits such as improving cognitive function and helping to regulate cholesterol levels.
The benefits of taking keto supplements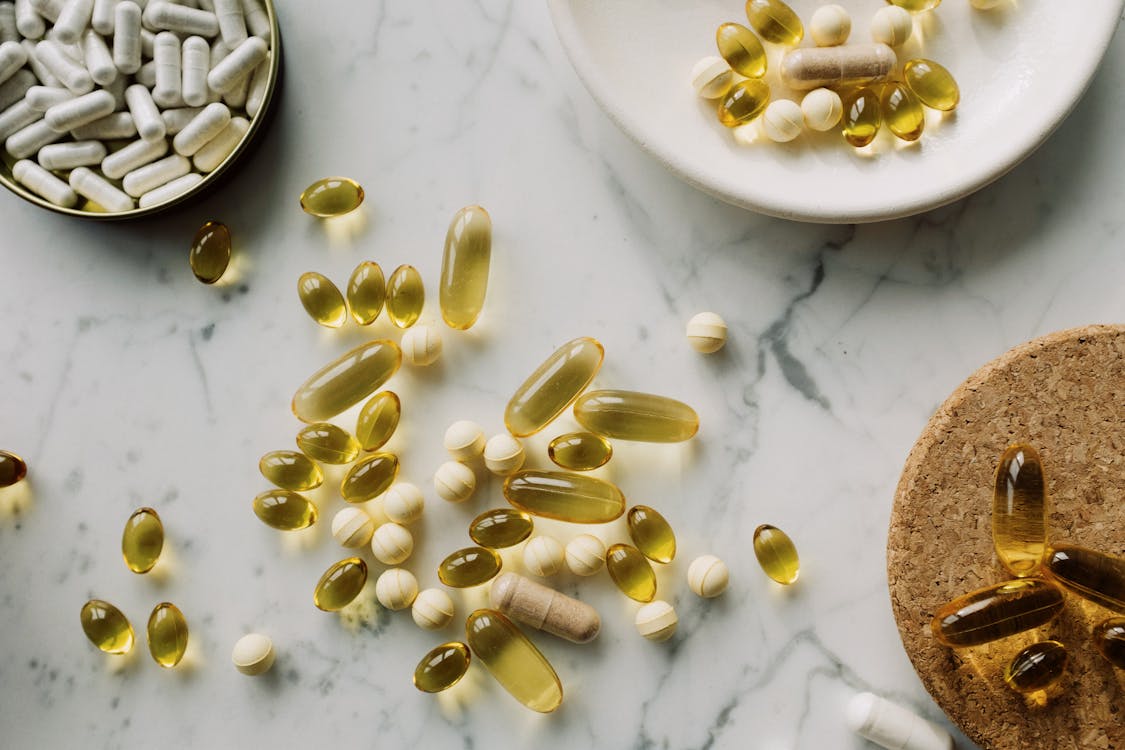 Keto supplements can help those on a ketogenic diet to achieve their health goals faster and more effectively. The main benefits of taking these supplements are improved fat loss, increased energy levels, and enhanced cognitive performance.
Fat Loss – Taking keto supplements can help to accelerate fat loss. This is due to the fact that they contain ingredients that have been specifically formulated to increase the body's ability to burn fat and use it as an energy source. For example, exogenous ketones are compounds that are naturally produced by the body and can help to speed up the process of ketosis, the metabolic state in which the body burns stored fat for energy. Additionally, taking keto supplements can help to reduce cravings for unhealthy foods and make sticking to your diet easier.
Energy Levels – Keto supplements can also be beneficial for increasing energy levels. This is due to the fact that they provide the body with energy from healthy sources such as exogenous ketones and medium-chain triglycerides (MCTs). MCTs provide a steady supply of energy that lasts for hours, helping to increase alertness and focus.
Cognitive Performance – Taking keto supplements has also been linked to improved cognitive performance. This is due to the fact that they provide the brain with ketones, which it uses for energy. Studies have found that ketones can help to increase focus and concentration, improve memory, and reduce the risk of developing neurological diseases like Alzheimer's and Parkinson's.
Overall, taking keto supplements can be a great way to support your health goals while on a ketogenic diet. These supplements can help you to lose weight more quickly and efficiently, increase your energy levels, and improve cognitive performance. As always, it's important to consult with your doctor before starting any new supplement regimen.
Are there any risks associated with taking keto supplements?
When it comes to any type of dietary supplement, it's important to weigh the potential benefits against any potential risks. Although keto supplements may have some health benefits, there are also risks associated with taking them.
The most common risk associated with taking keto supplements is that they can interact with certain medications. Keto supplements often contain ingredients that may interact with medications like blood thinners, so it's important to consult with your doctor before taking them. Additionally, keto supplements can also interact with other supplements, such as vitamins and minerals, which could potentially cause adverse reactions.
Another risk associated with taking keto supplements is that they can cause digestive problems or an imbalance of electrolytes in the body. If you experience any digestive issues or cramping after taking a keto supplement, stop using it immediately and speak to your doctor. It is also possible to develop an electrolyte imbalance if you are taking more than one supplement at the same time.
Finally, some of the ingredients found in keto supplements can be dangerous if taken in large doses. In some cases, they may even be toxic when taken in high doses. Therefore, it's important to follow dosage instructions carefully and never take more than the recommended amount.
Overall, there are potential risks associated with taking keto supplements and it's important to consider these before taking them. Make sure to speak to your doctor about any medications or supplements you're currently taking, and always follow dosage instructions carefully.